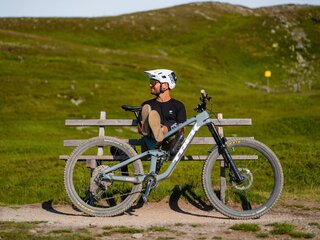 Test a Trek Saalbach
Your Trek Test Centre
Test Trek bikes
Trek Test Centre in Austrias largest bike region
INTERSPORT Breitfuss x Test a Trek
You are looking for your new Trek dream bike and want to test it thoroughly before buying? Then the Trek Test Centre is the right place for you! We offer you the possibility to test your Trek bike in advance at the Bikecircus Saalbach Hinterglemm.
Ride Bikes. Have Fun. Feel Good.
Trek Slash 9.8 GX AXS 2023
Enduro bike I Test bike
It's the right bike for you if ...
... you want to experience adventures in the mountains - whether in enduro races or on epic trail laps. You prefer the low weight and high comfort of a carbon frame, fine-tunable suspension performance and the precise gear changes of a GX Eagle AXS drivetrain.
Trek Fuel EX 9.8 GX AXS 2023
Enduro Bike I Test bike
It's the right bike for you if ...
... you want a full suspension trail bike that can handle anything that comes its way. You want to benefit from the vibration-damping properties of carbon frames and carbon wheels. Your suspension should be powerful and smooth out sections with scree and stones. When it comes to gearing, you prefer the clean and minimalist setup of a 12-speed wireless drivetrain.
Trek Rail 9.8 GX AXS 2023
E-Enduro Bike I Test bike
It's the right bike for you if ...
... you are looking for a long-travel e-mountain bike with a lightweight carbon frame, wireless electronic shifting and plenty of battery power. You want the stability of a longer reach, the smooth performance of a high-end chassis and the latest technology from Bosch.
Test Trek bikes
in the Home of Lässig
Whether it's a relaxed e-bike tour, casual flow trails, technical enduro trails or difficult downhill lines - test your favorite Trek bike in the Trek Test Centre of Saalbach Hinterglemm.
If you need more information about your test bike, please contact us.