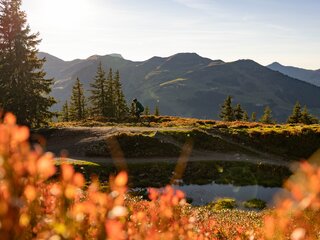 Your bike rental in Hinterglemm
             Book online now & get a discount
High quality bikes for beginners and pros
Rent you top bike at INTERSPORT Breitfuss in Hinterglemm
Our top located bike rental store in the center of Hinterglemm offer many different bike models as well as your suitable safety equipment. Our ski, bike and sportshop provides bikes for adults and kids.
Our great selection out of the newest electro, enduro and downhill bikes makes every bikers heart beat faster.
Highest quality, first class service and individual advices and costumization on all bikes are our top priority. So nothing stands in the way of exploring the best bike trails and tours in the Bike Paradise Saalbach Hinterglemm Leogang. We are happy to help you plan your tours.
Benefit of the many advantages of your Joker Card, which you can get from your accomodation free of charge. Biking without limits in Austria's largest bike region, Saalbach Hinterglemm.
Trek Session 8 2022
Downhill Bike
Your perfect bike if ...
... you love to ride through the bikepark in Saalbach Hinterglemm. If you want to have a multifunctional bike which you can trust. Further you'll enjoy riding on a bike with the best downhill components. This guarantees you the best safety aspects and a lot of fun in the bikepark!
Commencal Clash 24
Kids Downhill Bike
The perfect bike for kids if ...
... you want to shred the trails around Saalbach Hinterglemm with a really fast and solid kids downhill bike. With its perfect costruction you'll enjoy a stunning bike day with countless wonderful moment.
Suitable for body height: 125 - 145 cm
Trek Slash 2022
Enduro Bike
Your perfect bike if ...
... you want to rock all trails around Saalbach Hinterglemm and Leogang, you love to get some airtime and still want to have a really sturdy aluminium enduro bike. If you're not afraid of bumpy trails and maybe also want earn your trail and reach ultimate views and trails.
Focus Jam² 6.8 Nine 2022
E-Enduro Bike
Your perfect bike if ...
... you're looking for one of the best e-enduro bikes for your big adventures. If you also want to gain some highmeters to some beautiful scenic trails in our region. An e-enduro bike with 625 WH batterie, 150 mm travel, 29'' wheels. An agile an lively e-enduro bike.
Trek Powerfly 4 625 2022
E-Hardtail Bike
Das richtige Bike für Sie, wenn …
... Sie eine wunderschöne E-Biketour auf den Forststraßen und Radwegen von Saalbach Hinterglemm bis nach Zell am See oder Fieberbrunn geplant haben. Ein E-Bike mit 625 WH Akkuleistung und 29 Zoll Laufrädern bringt dich zu den schönsten Plätzen im Pinzgau.
Carefree package
Your bike insurance without deductible!
Our Carefree package includes breakage, damage and theft on our rental bikes.

  Bike Guiding in Saalbach Hinterglemm
Private lessons
Our qualified bike guides Jimmy and Daniela arrange the private lessons according to your needs - a guided enduro tour to hidden trails, an e-bike tour with great views or a downhill technique training for every level.
We love to improve your skills and make your bike holiday a dream holiday!
Prices private lessons:
2 hours € 120
3 hours € 170
4 hours € 210
Bike Shirts 2.0
Cool, modern and functional!
You can pick up your Intersport Breitfuss Bike Collection in our store in Hinterglemm or we can also send it to your home.
Selling price: € 45,90
Bike Gloves
Stylish and matching the shirt!
Our brand new bike gloves from Chiba guarantee best grip and style on every bike tour.
Selling price: € 24,90
Downhill I Enduro I Hardtail
Alle Demobikes werden neu aufgesetzt: Gabel- und Dämpferservice, neue Bereifung, neue Bremsscheibe, neue Bremsbeläge, neue Kette, neue Lager.